Hey Spies! It's Rosie here to fill you in on the latest VIP Style Scoop! Today I was
really excited
to go, because WNS is coming up, and one of the best parts about that is the
outfits
that come with it! While Mya posted, I decided to ask her about the upcoming WNS, and if today would
finally
be the day where we got the outfits leaked! c; I'm on the case ;3;
Me:
Psst Mya, just between you and me, are we finally getting WNS outfits leaked? (;
GASP!
4
y's... A
wink
y face... THIS CAN ONLY MEAN ONE THING! It would either be this or Woozen-Designed..
GASP, so it must be WNS!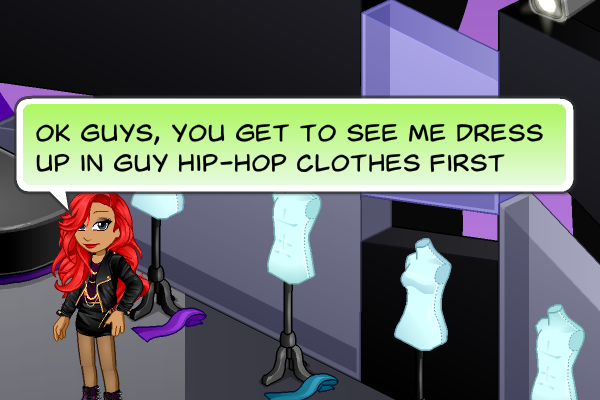 ----------
NOTE:
Keep in mind, only the torsos (not 'toros') and hairs will be new next week ;p
(Jay) Outfit 1:
Jrayke
Torso:
Jrayke Sweatshirt & Chain
Bottoms:
Stylish Jogging Pants (From Shopz)
Feet:
Kardinal Foldover Sneakers (From Kardinal Outfit)
Well isn't this just AWESOME! Yas Drake inspired! I LOVE the top! Jay's top last year was a big-hit, and I bet this wil be too! Can't get enough chains ;) The style works so well, so hip and fresh! I can totally picture this being something on real I music videos! The symbols on the hat, the golden shine of the chains, the joggers and sneakers, everything fits together to perfect Jay's hip hop rapper style!
----------
----------
(Jenny) Outfit 2:

JennySwift
Torso:
JennySwift Strapless Floral Drewss
Bottoms:

CUTIEster Skirt (From CUTIEster Outfit)
Feet:

CUTIEster Braided Flats (From CUTIEster Outfit)
SO CUTE! That dress is just adorable! x3 The bob looks perfect with this outfit, and this totally represents Taylor! The floral dress is perfect for the season and I totally see her wearing this! I see Jenny couldn't get enough country from last year, so the little sweetheart got more Taylor-inspired outfits! ;D The detailing in the dress is SO CUTE! I bet even Taylor would agree! c;
Hair:
Maxmance Two-Toned Hair
Torso:
Maxmance Leather Vest
Bottoms:

HollyXooz Jeans (From HollyXooz Outfit)
Yes this outfit is great! It works with them theme so perfectly! The hair is something a punk rocker would totally wear and the two-tone makes it that much more punk rock xD The vest is also great, and I just love the detailing on it! The tattoos, vest detailing, skull tee, this is just perfect! Then the HollyXoo jeans- ah, I just love the look they show! Bold and stylish, what more could you ask for?! Totally on-point c;
(Mya) Outfit 4:

DeMyaLovato
Hair:
DeMyaLovato Hairstyle
Torso:
DeMyaLovato Leapord Dress
Bottoms:

WNS Skirt (From WNS Pefromance Outfit (Myana Grande))
Feet:
WNS Wedge Heels (From WNS Performance Outfit (MyanaGrande))
Can I just say.. FAB <3 Tha fashion team definitely worked hard for this one, it's gonna be very popular I can tell! x) Just like Mya's outfits are! I'd expect no less from the fashion queen herself! I absolutely love hairs like these because of how elegantly they flow and the curls make it that much more beautiful! Then the hoops that go great with the pop theme! The designs on the dress also make it "POP!" This one is gonna be a huge success xD These heels are also fabulous and work perfect with any dress! x)
This was great! These outfits were just amazing and I can't wait to buy some! ;) Outfit game strong ok <3
That's all for now Spies! cx Until next time!